Lighting
Set. Turn on. Enjoy your home.
The right atmosphere.

Just a click away.

Whoever you are and whatever your home looks like ezon.io is for you. We heavily focused on lighting to give you the right atmosphere, everytime. Without necessarily having to replace your lamps, ezon.io allows you to control through your traditional switches, our portable buttons or the APP every light fixture. You can organize your lamps into groups or you can even create entire scenarios that allow you to quickly recall the perfect situation in just one click. Do not add any boundaries to your imagination, with ezon.io, you can do what just pop up in your mind in no time.
With ezon.io you can..
Turn on the lights wherever you are.
Enhance your non-smart switches, without changing them.
Add new control points without making any masonry intervention.
Control your lights even from the office.
Control multiple lights at the same time.
Create entire scenarios and recall the perfect ambiance in just one click.
With an ezon.io module and our APP you will be ready to start.
Illunaluce lamps for ezon.io

Thanks to our collaboration with Illunaluce, the ezon.io tech is now integrated in LED design smart lamps, completely designed and made in Italy.

With Illunaluce x ezon.io smart lamps you'll not need the ezon.io switch relay or ezon.io touch relay.

All the Illunaluce x ezon.io smart lamps are dimmable and avalable in different color temperatures (warm white 3000°K, cold white 5000°K) and RGB.

You can change every property via ezon.io Switch, ezon.io Touch, ezon.io Remote Control, APP and ezon.io Light Hub.
ezon.io APP
A single APP for your entire home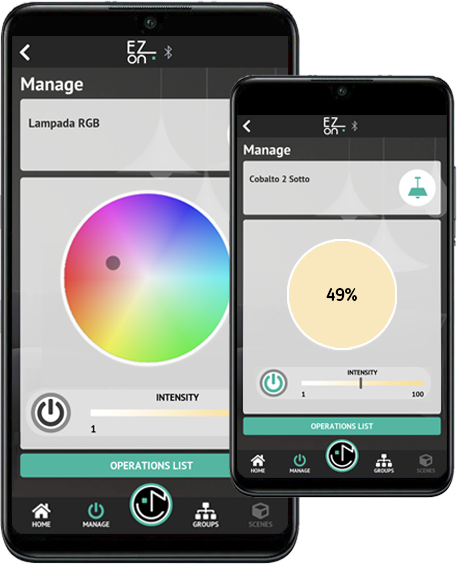 Our powerful APP, available for iOS and Android, allows you to manage, configure and program all your ezon.io modules. Turn on, off, dim and change color to all your ezon.io controlled light sources. Individually or in group. Create scenarios and have fun coloring your home.


Which solution fits better for me?
ezon.io offers different solutions
I want to keep my existing switches (one-way, intermediate, 3-way...) by making them smart.
You'll need to use a combination of "ezon.io Switch Relay", "ezon.io Switch" and the related power supplies.
I want to switch to the touch version of ezon.io by replacing my switches (one-way, intermediate, 3-way...).
You'll need to use a combination of "ezon.io Touch Relay", "ezon.io Touch" and the related power supplies.
These are just the most common configurations, but feel freee to combine them and/or integrate them with other modules, such as the ezon.io battery powered buttons that allow you to create additional light points without the hassle of extra masonry work.
Ok, you sold it ... what next?